Q.Two Oscars out of the last three years, how does that make you feel?
A.Guess.  It was, I think, like five minutes ago, I got this, or seven.  I was on a list with greatest actors around, with Robert De Niro, with Alan Arkin, with Tommy Lee Jones with Philip Seymour Hoffman.  How do you think someone feels when all of a sudden his name is called in that context?  I can't tell you.  I'm sorry.
Q.So, this is the second, Best Supporting Actor Oscar that you've gotten for work by Quentin Tarantino.  Has he talked to you about a third role in his revisionist history trilogy?
A.No.  As I said, this is about seven minutes old.  Somehow I failed to catch the moment to remind Quentin that I'm around.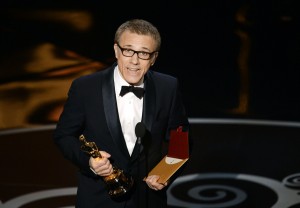 Q.Hello, Mr. Waltz.  It would be great if you can answer, maybe, in German.
A.No.  I answer in English for everybody.
Q.Okay.  Mr. Waltz, one Oscar could be a coincidence.  A second, not.  What does it mean for you personally now, this award?
A.This    well, it really has so much to do with the other actors who were nominated with me, or rather, and I insist on that difference, the fact that I was nominated with them.  It means    actually, I don't know what it can mean more, but if it can, then that's what it does.
Q.Hello, Christopher [sic].  Congratulations.
A.Thank you.
Q.Your second Oscar.  I've been acting 23 years and I've never won an Academy Award.
A.I did it 38, so…
Q.I'm 41.  But you are an incredible actor.  In light of the subject matter of your film, are you excited about the possibility of a black pope?  That's an actual thing.  He's from Ghana.
A.Yeah, well, I have to tell you one thing.  It would be an exciting thing.  I am a very adamant non racist.  I don't care whether the pope is black or white or whatever color.  If we are non racist, then we have to stay non racist all the way.
Q.Over here, Christoph.  Hello, how are you?  Congratulations. Okay.  Here you are, European guy.  You just won an Oscar for the highest grossing western in history.  How does that make you feel?  Western?
A.I'm just an actor, I am not an accountant.  I love this movie, not for being the highest grossing one.  I love this movie because it's a fabulous, exciting piece of entertainment with a really deep message.  So, I'm glad that it's popular because this is what the box office reflects.  But the money, sorry, I do something else.
Q.Hi, Christoph.  Congratulations.  Over here.  And can you talk some more about why Quentin Tarantino brings out the best in you?  What about Quentin made you win another Oscar?
A.I said it just now, and I hope you don't mind my repeating it.  Quentin writes poetry, and I like poetry.
Q.Hi, Christoph.  Congratulations.  I just wondered if you were shocked to win tonight, given    [inaudible].
A.Totally.  I still am.  Literally.  That's why my answers are somewhat incoherent, but I don't care.
Q.Did you prepare a speech?
A.Well, I thought about what one could say in case because, you know, as Seth MacFarlane said in the beginning about a million people are watching.  You don't want to be    you know, you're nominated, there is an off chance that you might have to, you know    I didn't prepare speech, but I thought of something.
Q.Hi, back here.  During the filming of DJANGO UNCHAINED, when did you realize, or did you realize, that there was something special about this film?
A.When I read the script for the first time, I realized that there was something special about this film.  I know Quentin, and I read the pages more or less as they came out of the printer.  Page by page I realized that something special is in the making.
Q.Congratulations.  When those names were read, one of yours, of course, it took here for us like a teeny tiny eternity until they called your name.  How did you feel that, and if you could explain that additionally also in German besides English.
A.You know, I have experience with this.  We did that last time and it doesn't work.  How it feels, I say that before.  The list of names is    and I know there is a terrible inflation about this word, but I mean it in the literal sense, "awesome."  It is    I am in awe of the people who work or are in my category.  So, the very fact that I am one of them would have been, you know, would have meant the world, and that's why I keep mentioning them because Robert De Niro, Alan Arkin are role models for me since I started in this profession.
Q.Thank you very much.  Congratulations.  Thank you.  Thanks, very much.