După cum spuneam, Lupita nu a fost favorita mea dar pot să fiu ok cu faptul că a câştigat, pentru că n-a jucat rău deloc, e primul ei rol, toată nebunia cu premiile şi sucesul e atât de nouă încât las' să se bucure! Am publicat discursul de pe scenă, aici aveţi selecţiuni din interviu oferit celor de la presă în culise.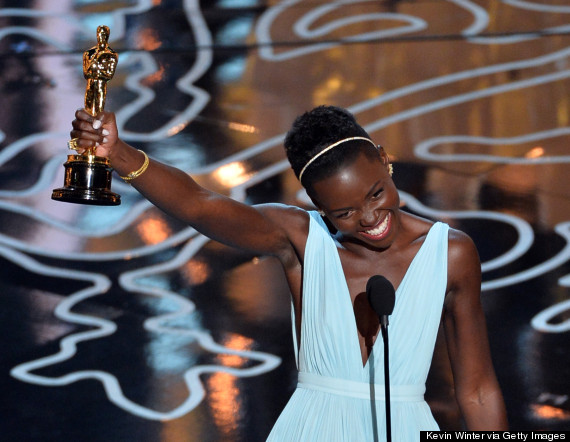 Q.    You had mentioned in a recent interview that only you could dream for yourself.  Did you ever dream this, this big?
A.    No.  No.  No.
Q.    And how are you feeling now?
A.    I'm a little dazed.  I can't believe this is in my hands.  I can't believe this is real life.  Yeah, I'm just ‑‑ I don't know.  I'm really overwhelmed.
Q.    You said that in your acceptance speech that the spirit of the dead surrounding, in the aisle there, do ‑‑ could you explain what you meant by that?
A.    Well, I just feel that Steve ‑‑ it was something I said with regards to Steve McQueen.  I think that he's really honored a people that really have been unsung for a really long time through doing this film, and I ‑‑ I just feel that their spirits have been honored is what I meant.
Q.    Maya Angelou says that we are more alike than we are different.  And you have been the it girl on this entire award season journey and have met a whole lot of people.  So my question is:  What on this journey that you've been on, are you going to take and understand about the human spirit?
A.    Hmm.  That's a tough one.  Oh, that's tough.  But I ‑‑ I don't know whether I can answer that question.  What I will say is that what I have learned for myself is that I don't have to be anybody else; and that myself is good enough; and that when I am being true to that self, then I can do ‑‑ I can avail myself to extraordinary things such as this, you know, that I didn't ‑‑ if ‑‑ that I didn't think was necessarily possible; but I ‑‑ I didn't cancel it out of my realm of ‑‑ of ‑‑ of possibility, and I think that's the thing.  You have to allow for the impossible to be possible.
Q.    I think you had a good‑luck message from the Kenyan president earlier this week.  What reaction have you had in Kenya, and ‑‑ and what message do you have for people there?
A.    Well, yeah.  It's ‑‑ it's ‑‑ I know that my country has been extremely proud of me.  I stumbled upon a big, big, big, like, good luck ‑‑ I don't even know what to call it, but something at the rugby sevens in Las Vegas, and they created this big, big canvas saying thank you to me; and I stumbled ‑‑ stumbled upon it on Instagram.  And that was just amazing to see all of these hundreds of people holding up this thing saying good luck to me, and so I know I mean a lot to my countrymen, and I am so grateful for that kind of support from the entire world actually, that the entire world did not have a say in whether I got this or not, but the fact that I won in so many people's hearts, that is incredible, and I am so grateful for that.
Q.    I'm just wondering how you feel now?  Did you ‑‑ you know, it's such an impossible dream then.  I'm just wondering what you feel now at this moment.  And congratulations by the way.
A.    Thank you.  Thank you.  I don't think it's ‑‑ it hasn't sunk in that I'm holding this thing, and it's ‑‑ it's in my hands, but I haven't wrapped my mind around it yet.  I ‑‑ I ‑‑ I ‑‑ you know, you hear people wanting you to win and predicting you'll win and everything, but it's just not real until you hear Christoph Waltz say your name, and it's perplexing that ‑‑ it's just very perplexing.  But I'm so happy to be holding this golden man.
Q.    I think we all want to know what goes through your mind when Liza Minnelli comes at you with a bear hug before you accept your Oscar.  Be detailed, please?
A.    Oh, dear.  I felt quite fabulous.
Q.    And we wanted to know what's the most encouraging thing someone has said to you during this whole Oscar ride?
A.    I think the message that I've gotten from many people who have been in this position is that they've said from ‑‑ from their hearts that the outcome doesn't matter, that you've already won.  The work has been done.  And remembering that has kept me hopeful, and positive, and relaxed.
Q.    You've been known for your incredible acting and your fashion on the red carpet, but you've also been really known for your poised attitude.  You're very humble.  What has led you to become this way and will continue to be such a humble lady in this industry?
A.    I think credit must be given to my parents.  I have phenomenal parents.  My father is famous in his own right, has done amazing things for our country, Kenya, and my mother, too.  She's a trailblazer.  She's ‑‑ she's a pioneer.  And to watch those two people do so much and mean so much to everyone but not ‑‑ it doesn't ‑‑ but at the end of the day still have the humility to serve, I think ‑‑ I think their example because at the end of the day I ‑‑ I just feel it is my deeds that are more important than my ‑‑ than my fame or ‑‑ you know?  Yeah.  I ‑‑ yeah.
Q.    How are you going to be celebrating this?
A.    I'm going to the Governors Ball, and I'm going to be doing all things Oscar‑related.  This is my first time here, and it's all been ‑‑ it's like I ‑‑ I don't know.  It's like I feel like Willie Wonka in the chocolate factory.
Q.    What do you think your dad is going to say now after tonight?
A.    Well, I saw him after I got this young man, and he hugged me, and he said, "Thank you."