I-am văzut în concert acum trei ani, concertul lor de revenire în şi la formula iniţială: Skye Edwards şi cei doi fraţi Godfrey, Ross şi Paul, după lansarea Blood Like Lemonade. Un fel de Morcheeba aşa cum îi ştiam, inconfundabili dar cu sound un pic diferit, nebulos, dacă e să mă iau după descrierea lui Ross.
Suficient de ironic (viaţa bate filmul, nu?) la scurt timp după lansarea albumului Blood Like Lemonade, Paul a aflat că are diabet, lucru care s-a dovedit aproape salutar: i-a schimbat regimul de viaţă şi l-a ajutat să devină mai responsabil şi mai încrezător. Ross a renunţat la o carieră de compozitor pentru muzică de film şi a revenit la Londra, dedicat proiectelor trupei, şi, de astă primăvară, a aflat, din proprie experienţă, cum e rolul de tată. Şi Skye are copii, mari deja, şi experienţa a trei albume solo. Noile responsabilităţi apărute în viaţa fiecăruia au dus la cea una dintre cele mai bune colaborări, cea din care a rezultat albumul Head Up High.

Skye and I really connected on this album, more than before. We found we had so much common ground. I have a huge respect for her, zice Paul despre lucrul la Head Up High. Este albumul cu numărul opt în cei 18 ani de la înfiinţarea trupei.
N-au mai pornit cu chitara, au pornit cu ritmul, peste care s-a adăugat linia melodică şi apoi versurile. Şi le place stilul ăsta, le place cum a ieşit noul album, şi nici criticii nu s-au sfiit să-l laude.
I took phrases I admired from a load of my favourite books – writers like Philip K. Dick – put them in a bag and drew them out, putting relevant ones together, and the mood and feeling of a song would come together from that. It was just a nice, fresh way of approaching it. With the English language, it's so difficult to reinvent the wheel, despite its flexibility, spune Paul despre versuri.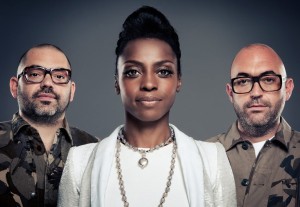 O să vă placă albumul ăsta şi o să vă placă şi concertul prin care şi-l promovează, parte a unui turneu mondial pe care trupa l-a pornit în această toamnă. Mâine ajung şi la Bucureşti, la Arenele Romane, şi vă sfătuiesc să nu-i rataţi. O mână de ajutor vă dau şi eu acum, cu o invitaţie dublă, dar, pentru mai multă siguranţă găsiţi bilete aici.
Pentru a intra în posesia invitaţiei, as vrea să-mi spuneţi versurile voastre preferate din oricare cântec de pe Head Up High. Mâine la prânz aflăm cine merge la concert! Unul – se cuvine să spun! – organizat de Events! Şi nu că muzica n-ar fi suficientă în sensul ăsta, dar e bine să ştiţi că e vorba de un cort încălzit!
LE: Conform random.org a câştigat Andra Nicula. Multumesc pentru comentarii, tuturor, şi sper ca o sa va oferiti bucuria de a merge la concert. Chiar si cu bilet cumparat! :D