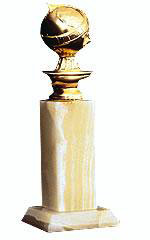 Acum mai puţin de o oră, Asociaţia Jurnaliştilor Străini la Hollywood a anunţat, prin vocile lui Gerard Butler, Woody Harrelson, Rashida Jones şi Sofia Vergara, nominalizările pentru cea de a 69-a ediţie a Globurilor de Aur, considerate de industrie ca anunţând favoriţii pentru Oscar. Favoriţii galei de premiere, ce va avea loc pe 15 ianuarie, sunt The Help, The Artist şi The Descendants. Midnight in Paris a primit şi el patru nominalizări.
Premiul Cecil DeMille merge, în 2012, la Morgan Freeman, şi mă bucur tare că e aşa. În 2011 l-a primit Robert DeNiro
Ediţia din acest an, câştigători.
Iată lista completă a nominalizărilor pentru 2012:
1. BEST MOTION PICTURE – DRAMA
THE DESCENDANTS                                                                                                                                                                                                           Sofia Vergara Ad Hominem Enterprises; Fox Searchlight Pictures
THE HELP
DreamWorks Pictures, Participant Media; Touchstone Pictures
HUGO
Paramount Pictures presents a GK Films Production; Paramount Pictures
THE IDES OF MARCH
Columbia Pictures, Cross Creek Pictures, Exclusive Media Group, Crystal City Entertainment; Sony Pictures Releasing
MONEYBALL
Columbia Pictures; Sony Pictures Releasing International
WAR HORSE
DreamWorks Pictures; Touchstone Pictures
2. BEST PERFORMANCE BY AN ACTRESS IN A MOTION PICTURE – DRAMA
GLENN CLOSE ALBERT NOBBS
VIOLA DAVIS THE HELP
ROONEY MARA THE GIRL WITH THE DRAGON TATTOO
MERYL STREEP THE IRON LADY
TILDA SWINTON WE NEED TO TALK ABOUT KEVIN
3. BEST PERFORMANCE BY AN ACTOR IN A MOTION PICTURE – DRAMA
GEORGE CLOONEY THE DESCENDANTS
LEONARDO DICAPRIO J. EDGAR
MICHAEL FASSBENDER SHAME
RYAN GOSLING THE IDES OF MARCH
BRAD PITT MONEYBALL
4. BEST MOTION PICTURE – COMEDY OR MUSICAL
50/50
Summit Entertainment and Mandate Pictures; Summit Entertainment
THE ARTIST
a La Petite Reine – Studio 37 – La Classe Americaine – JD Prod- France3 Cinema -Jouror Production-uFilms coproduction; The Weinstein Company
BRIDESMAIDS
Universal Pictures, Relativity Media, Apatow Productions; Universal Pictures
MIDNIGHT IN PARIS
A Mediapro, Versatil Cinema & Gravier Production; Sony Pictures Classics
MY WEEK WITH MARILYN
The Weinstein Company; The Weinstein Company
5. BEST PERFORMANCE BY AN ACTRESS IN A MOTION PICTURE – COMEDY OR
MUSICAL
JODIE FOSTER CARNAGE
CHARLIZE THERON YOUNG ADULT
KRISTEN WIIG BRIDESMAIDS
MICHELLE WILLIAMS MY WEEK WITH MARILYN
KATE WINSLET CARNAGE
6. BEST PERFORMANCE BY AN ACTOR IN A MOTION PICTURE – COMEDY OR MUSICAL
JEAN DUJARDIN THE ARTIST
BRENDAN GLEESON THE GUARD
JOSEPH GORDON-LEVITT 50/50
RYAN GOSLING CRAZY, STUPID, LOVE.
OWEN WILSON MIDNIGHT IN PARIS
7. BEST ANIMATED FEATURE FILM
THE ADVENTURES OF TINTIN
Paramount Pictures/Columbia Pictures/ Hemisphere Capital/Amblin Entertainment/Wingnut Films Production/ Kennedy/Marshall Production A Steven Spielberg Film; Paramount Pictures and Columbia Pictures
ARTHUR CHRISTMAS
Columbia Pictures & Sony Pictures Animation; Sony Pictures Releasing International
CARS 2
Walt Disney Pictures, Pixar Animation Studios; Walt Disney Pictures
PUSS IN BOOTS
DreamWorks Animation; Paramount Pictures
RANGO
Paramount Pictures and Nickelodeon Movies present A Blind Wink / GK Films Production; Paramount Pictures
8. BEST FOREIGN LANGUAGE FILM
THE FLOWERS OF WAR (CHINA)
(Jing Ling Shi San Chai)
New Pictures Film Company; New Pictures Film Company
IN THE LAND OF BLOOD AND HONEY (USA)
GK Films; FilmDistrict
THE KID WITH A BIKE (BELGIUM)
(Le Gamin au Velo)
Les Films du Fleuve; Sundance Selects
A SEPARATION (IRAN)
(Jodaeiye Nader az Simin)
Asghar Farhadi; Sony Pictures Classics
THE SKIN I LIVE IN (SPAIN)
(La piel que habito)
El Deseo D.A., S.L.U.; Sony Pictures Classics
9. BEST PERFORMANCE BY AN ACTRESS IN A SUPPORTING ROLE IN A MOTION PICTURE
BERENICE BEJO THE ARTIST
JESSICA CHASTAIN THE HELP
JANET MCTEER ALBERT NOBBS
OCTAVIA SPENCER THE HELP
SHAILENE WOODLEY THE DESCENDANTS
10. BEST PERFORMANCE BY AN ACTOR IN A SUPPORTING ROLE IN A MOTION PICTURE
KENNETH BRANAGH MY WEEK WITH MARILYN
ALBERT BROOKS DRIVE
JONAH HILL MONEYBALL
VIGGO MORTENSEN A DANGEROUS METHOD
CHRISTOPHER PLUMMER BEGINNERS
11. BEST DIRECTOR – MOTION PICTURE
WOODY ALLEN MIDNIGHT IN PARIS
GEORGE CLOONEY THE IDES OF MARCH
MICHEL HAZANAVICIUS THE ARTIST
ALEXANDER PAYNE THE DESCENDANTS
MARTIN SCORSESE HUGO
12. BEST SCREENPLAY – MOTION PICTURE
WOODY ALLEN MIDNIGHT IN PARIS
GEORGE CLOONEY, GRANT HESLOV, BEAU WILLIMON THE IDES OF MARCH
MICHEL HAZANAVICIUS THE ARTIST
ALEXANDER PAYNE, NAT FAXON, JIM RASHTHE DESCENDANTS
STEVEN ZAILLIAN, AARON SORKIN MONEYBALL

13. BEST ORIGINAL SCORE – MOTION PICTURE
LUDOVIC BOURCE THE ARTIST
ABEL KORZENIOWSKI W.E.
TRENT REZNOR, ATTICUS ROSS THE GIRL WITH THE DRAGON TATTOO
HOWARD SHORE HUGO
JOHN WILLIAMS WAR HORSE
14. BEST ORIGINAL SONG – MOTION PICTURE
"HELLO HELLO??? — GNOMEO & JULIET
Music by: Elton John
Lyrics by: Bernie Taupin
"THE KEEPER??? — MACHINE GUN PREACHER
Music & Lyrics by: Chris Cornell
"LAY YOUR HEAD DOWN??? — ALBERT NOBBS
Music by: Brian Byrne
Lyrics by: Glenn Close
"THE LIVING PROOF??? — THE HELP
Music by: Mary J. Blige, Thomas Newman, Harvey Mason, Jr.
Lyrics by: Mary J. Blige, Harvey Mason, Jr., Damon Thomas
"MASTERPIECE??? — W.E.
Music & Lyrics by: Madonna, Julie Frost, Jimmy Harry
15. BEST TELEVISION SERIES – DRAMA
AMERICAN HORROR STORY FX
Twentieth Century Fox Television
BOARDWALK EMPIRE HBO
Leverage, Closest to the Hole Productions, Sikelia Productions and Cold Front Productions in association with HBO Entertainment
BOSS STARZ
Lionsgate Television in association with Grammnet NH Productions, Roya Productions and Old Friends Productions
GAME OF THRONES HBO
Bighead, Littlehead, 360 Television, Grok and Generator Productions in association with HBO Entertainment
HOMELAND SHOWTIME
SHOWTIME Presents, Teakwood Lane Productions, Cherry Pie Productions, Keshet, Fox 21
16. BEST PERFORMANCE BY AN ACTRESS IN A TELEVISION SERIES – DRAMA
CLAIRE DANES HOMELAND
MIREILLE ENOS THE KILLING
JULIANNA MARGULIES THE GOOD WIFE
MADELEINE STOWE REVENGE
CALLIE THORNE NECESSARY ROUGHNESS
17. BEST PERFORMANCE BY AN ACTOR IN A TELEVISION SERIES – DRAMA
STEVE BUSCEMI BOARDWALK EMPIRE
BRYAN CRANSTON BREAKING BAD
KELSEY GRAMMER BOSS
JEREMY IRONS THE BORGIAS
DAMIAN LEWIS HOMELAND
18. BEST TELEVISION SERIES – COMEDY OR MUSICAL
ENLIGHTENED HBO
Ripcord Productions in association with HBO Entertainment
EPISODES SHOWTIME
SHOWTIME Presents, Hat Trick Productions, Crane Klarik Productions
GLEE FOX
Ryan Murphy Television in association with Twentieth Century Fox Television
MODERN FAMILY ABC
Levitan-Lloyd Productions in association with Twentieth Century Fox Television
NEW GIRL FOX
Chernin Entertainment in association with Twentieth Century Fox Television
19. BEST PERFORMANCE BY AN ACTRESS IN A TELEVISION SERIES – COMEDY OR MUSICAL
LAURA DERN ENLIGHTENED
ZOOEY DESCHANEL NEW GIRL
TINA FEY 30 ROCK
LAURA LINNEY THE BIG C
AMY POEHLER PARKS AND RECREATION
20. BEST PERFORMANCE BY AN ACTOR IN A TELEVISION SERIES – COMEDY OR MUSICAL
ALEC BALDWIN 30 ROCK
DAVID DUCHOVNY CALIFORNICATION
JOHNNY GALECKI THE BIG BANG THEORY
THOMAS JANE HUNG
MATT LEBLANC EPISODES
21. BEST MINI-SERIES OR MOTION PICTURE MADE FOR TELEVISION
CINEMA VERITE HBO
A Pariah Production in association with HBO Films
DOWNTON ABBEY (MASTERPIECE) PBS
A Carnival/Masterpiece Co-production
THE HOUR BBC AMERICA
Kudos Film and Television/BBC America co-production.
MILDRED PIERCE HBO
A Killer Films/John Wells Production in association with Metro-Goldwyn-Mayer and HBO Miniseries
TOO BIG TO FAIL HBO
A Spring Creek and A Deuce Three Production in association with HBO Films
22. BEST PERFORMANCE BY AN ACTRESS IN A MINI-SERIES OR MOTION PICTURE MADE FOR TELEVISION
ROMOLA GARAI THE HOUR
DIANE LANE CINEMA VERITE
ELIZABETH MCGOVERN DOWNTON ABBEY (MASTERPIECE)
EMILY WATSON APPROPRIATE ADULT
KATE WINSLET MILDRED PIERCE
23. BEST PERFORMANCE BY AN ACTOR IN A MINI-SERIES OR MOTION PICTURE MADE FOR TELEVISION
HUGH BONNEVILLE DOWNTON ABBEY (MASTERPIECE)
IDRIS ELBA LUTHER
WILLIAM HURT TOO BIG TO FAIL
BILL NIGHY PAGE EIGHT (MASTERPIECE)
DOMINIC WEST THE HOUR
24. BEST PERFORMANCE BY AN ACTRESS IN A SUPPORTING ROLE IN A SERIES, MINI-SERIES OR MOTION PICTURE MADE FOR TELEVISION
JESSICA LANGE AMERICAN HORROR STORY
KELLY MACDONALD BOARDWALK EMPIRE
MAGGIE SMITH DOWNTON ABBEY (MASTERPIECE)
SOFIA VERGARA MODERN FAMILY
EVAN RACHEL WOOD MILDRED PIERCE
25. BEST PERFORMANCE BY AN ACTOR IN A SUPPORTING ROLE IN A SERIES,
MINI-SERIES OR MOTION PICTURE MADE FOR TELEVISION
PETER DINKLAGE GAME OF THRONES
PAUL GIAMATTI TOO BIG TO FAIL
GUY PEARCE MILDRED PIERCE
TIM ROBBINS CINEMA VERITE
ERIC STONESTREET MODERN FAMILY